A Crystal Lake Novel Boxed Set 4-7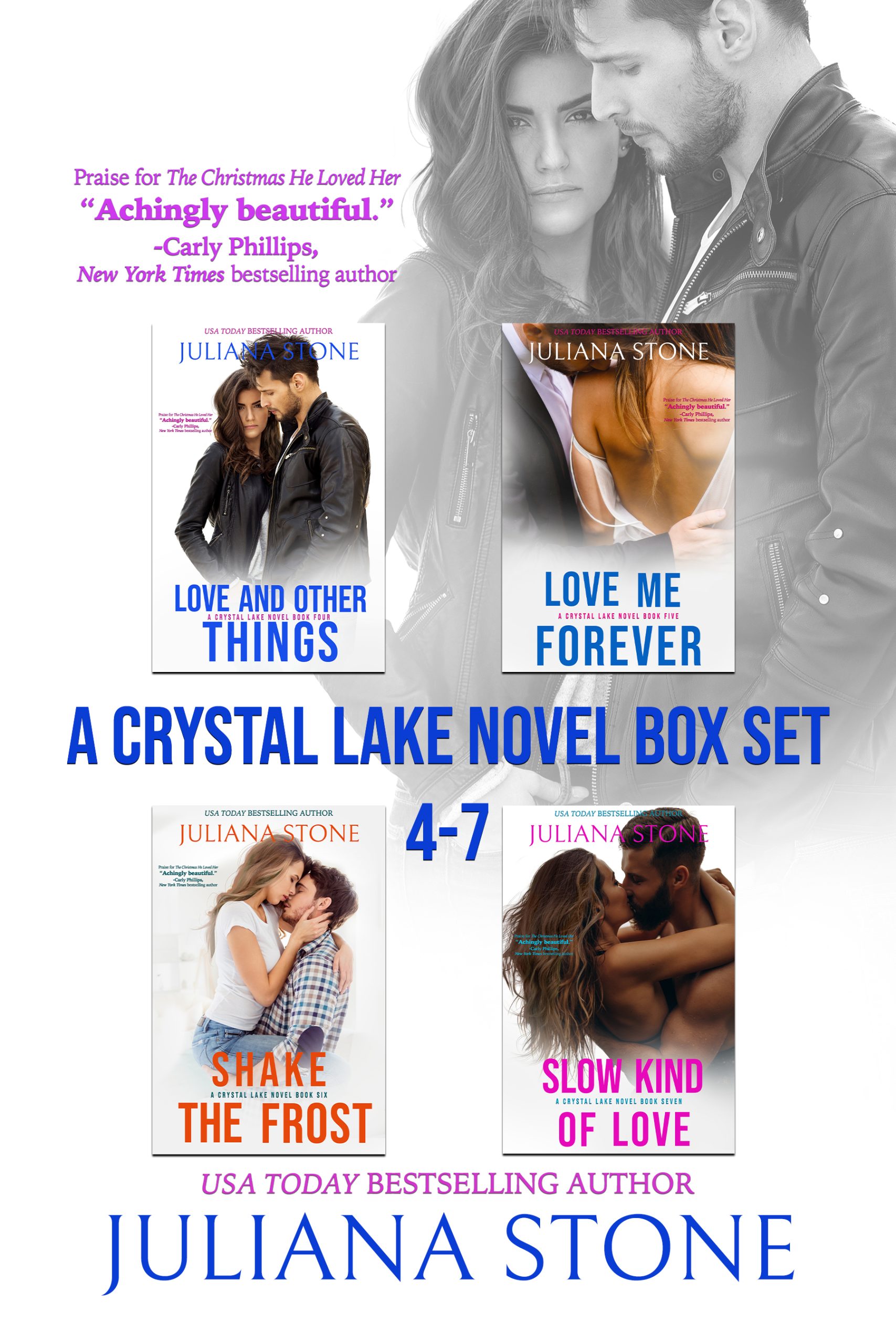 Come back to Crystal Lake, from USA Today Bestselling Author Juliana Stone.
This box set includes books 4-7 in the Crystal Lake Series
Love & Other Things: Beck Jacobs makes a living restoring and fixing homes. The only thing he can't fix is himself. A part of him died the night his fiancé was taken, and he's accepted the fact he'll live his life alone. What he doesn't count on is Sidney Barrett, a woman more broken than he is. Surprised at the sparks between them, Beck has to decide whether he stokes those flames and lets them spread, or does he step away and let them burn to ash.
Sid Barrett seems to have it all. Famous for being famous, she's carved out a life for herself and made a fortune with her lifestyle brand. Burnt out, she escapes to Crystal Lake, her plan to relax and recharge the batteries. Local contractor Beck Jacobs, puts a wrench in that plan. The thought of embarking on an affair with a man like Beck scares her. But when your heart has already been shattered, is there anything left to break?
Love Me Forever: The summer Poppy Fairbanks turned sixteen she gave Boone Avery her virginity and he stole her heart. For a few blissful months she walked on clouds, until he left Crystal Lake without a word and she never saw him again. The fact that he's back shouldn't matter. But it does. And she finds herself thinking about that summer, about his hot kisses and what if…
Considering she vowed never to speak to him again, how inconvenient is that?
Boone Avery came back to Crystal Lake to raise his son. As a man who's lived his life for everyone but himself, he's hoping this time around he can do things right. He has no time for romancing a woman, hell, he's still trying to figure out his own life. But what's a guy to do when the one that got away is standing right in front of him? Especially when she makes it clear she doesn't like him all that much.
If you're Boone Avery you throw out the playbook and set your own rules, and to hell with consequence.
Shake The Frost: Ethan Caldwell's life changed the day his buddy crashed his bike and ended up in a coma. Carrying the blame is one thing, but the torch he carries for his best friend's wife is something else entirely. He retreated from town; content to rebuild engines and work on custom rides at his place on the lake. This life he's fallen into is enough, until the one woman he needs to stay away from appears at his door asking for help, and everything changes.
At thirty-two years of age Emily Davenport is something she thought she'd never be: a widow. Stuck living in the shadows, she clings to the memories of her past and finds herself drawn to the only man who understands her pain, Ethan Caldwell. He wants nothing to do with her, but Emily refuses to give up. Not when he sparks something inside her, something hot. Something alive.
As winter approaches Crystal Lake, these two lost souls will have to shake the demons from their past, if they want to grab hold of some kind of future together.
Slow Kind Of Love: Link Major always gets what he wants. An ex-footballer and heir to a fortune has made it easy. But the woman he's in love with isn't biting.  He wants more than she's willing to give. What's a cocky Brit to do? The thing he's best at. He plays dirty. More importantly, he plays to win.
 Elise Avery thinks there is no second chance at love for her, and doesn't need the complication of a much younger man in her life. But he makes her burn like no other.  She's willing to embark on an affair, though she knows he wants more. As their affair heats up the real question becomes, is she brave enough to let him win?