The Gift Of Love Boxed Set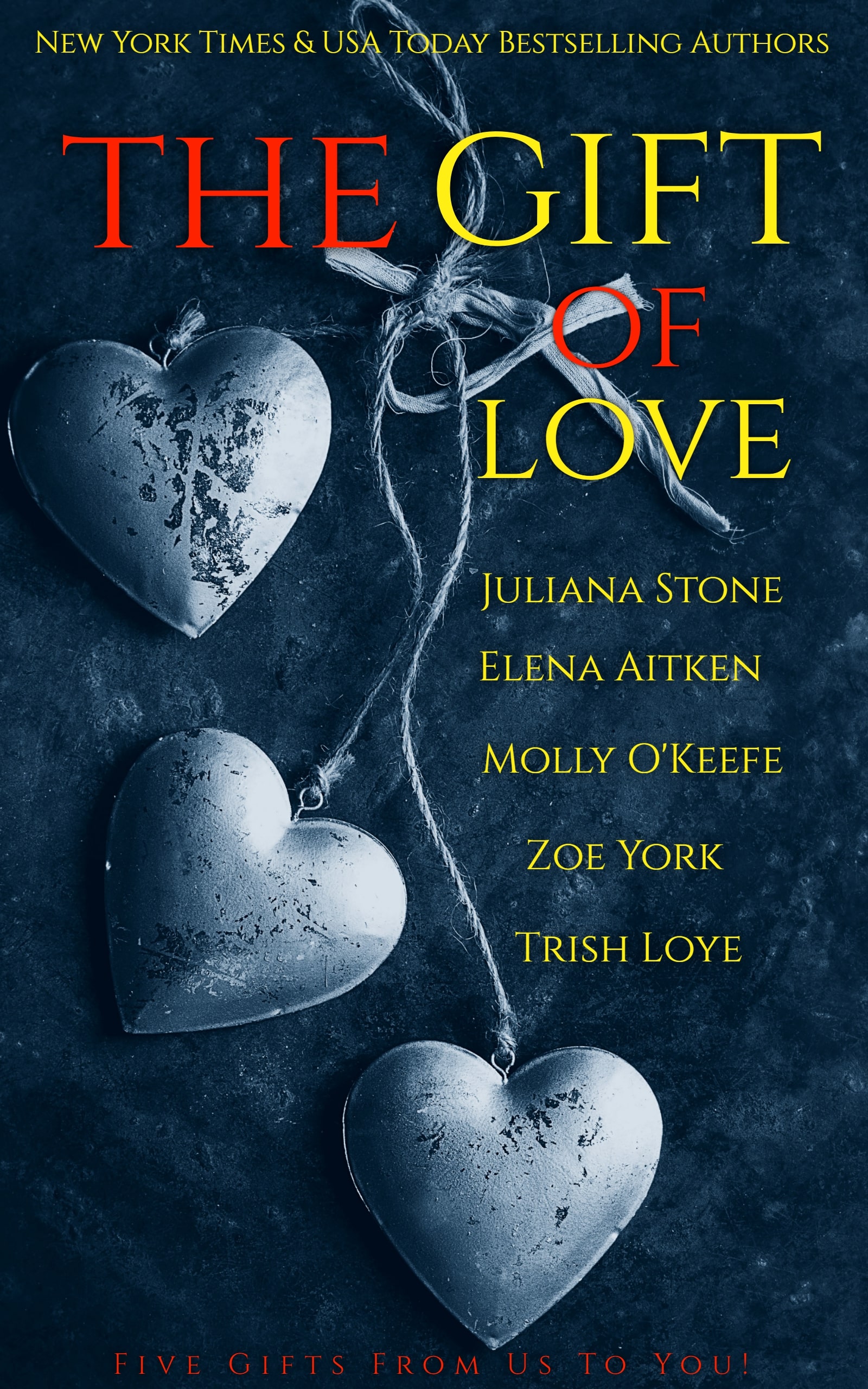 A Gift From Us To You!
Fall in love all over again with this exclusive boxed set full of FREE romances from USA Today and New York Times bestselling Authors. With all the craziness and uncertainty in the world right now, we know things are difficult for a large number of folks and this is our small way of giving back! Download your copy today, sit back and enjoy and know that you're all so appreciated!
From USA Today Bestselling Author, Juliana Stone.
THE THING ABOUT TROUBLE: Cam Booker learned the hard way that commitment and love aren't for him. Fresh out of a relationship that nearly saw him go to jail, he's focused on building a life and his business. But when he suddenly finds himself responsible for a motherless five-year-old, his world is turned upside down. What does he know about caring for a little girl? On top of that, his newest client, the notorious widow Banes is definitely the kind of trouble he doesn't need.
From USA Today Bestselling Author, Elena Aitken.
ONLY FOR A MOMENT: She's sworn off relationships. He's ready to find 'the one'. The last thing either of them expected was each other.
As far as Jade Johnson is concerned, the only thing men have ever been good at is holding her back. But when work takes her to the small town of Cedar Springs to cast a hot new show, Jade comes face to face with a man who sets her world on fire and immediately challenges everything she's ever believed.
Mitch McCormick is finally ready to put his playboy ways behind him and settle down, but the type of women he's been dating are definitely not the marrying type. Which is exactly why he needs a nice girl. An easy going, sweet, small town girl…
The exact opposite of the feisty, sharp tongued talent agent he can't get off his mind. Jade challenges him and excites him in a way he's never experienced. But Jade's made it clear that settling down isn't something she wants, not with him—not with anyone.
But when Jade makes a discovery that will turn her life upside down, it's not only her own heart she needs to protect. Because whether she likes it or not, everything is about to change.
From USA Today Bestselling Author, Molly O'Keefe.
WEDDING AT THE RIVERVIEW INN: An emotional tale of a magical inn, a wedding gone terribly wrong and a woman searching for a second chance.
Alice has hit rock bottom. Once a Michelin-starred chef, she is now drowning in debt, working the line at a chain restaurant and drinking too much. The last person she ever expected to come knocking with a job offer and a fresh start is her ex-husband, Gabe.
Gabe built The Riverview Inn with his dad and brother. Now, the grand lodge in the Catskill Mountains is nearly ready for the opening event—a society wedding for 500 guests.
The only thing missing is a chef. That's where Alice comes in.
The deal Gabe offers Alice is too good to pass up: help him get through this wedding and he'll get her out of debt.
But nothing is simple at The Riverview and soon she's dealing with a bridezilla, pink swans, a series of mysterious letters and a teenage delinquent. Through it all, one thing is clear—her feelings for Gabe burn as bright as they always have.
When the wedding is over, will Alice walk away for good? Or will The Riverview work its magic on Alice and Gabe?
From NEW York Times Bestselling Author Zoe York.
LOVE ON A SUMMER NIGHT: Never say never. Especially not to a determined bad boy.
Zander Minelli is exactly the wrong kind of man. He's dark, dangerous, and knows far too much about sawed-off shotguns. 
Faith Davidson finds him irresistible. The widowed single mother knows she should dip her toe back in the dating pool with someone solid and dependable. Definitely no tattoos. But every time she looks up, the brooding soldier is watching her, and she can't help but wonder what it would be like to let herself have a taste…
Small town summer nights have never been hotter—and one transplanted city-girl's heart has never been more fragile.
From Bestselling Author Trish Loye.
EDGE OF FURY: E.D.G.E. Security is a covert international organization that handles jobs most governments won't. The operators are the elite of the elite, soldiers and spies, chosen for their skills and secrecy, and their ability to go beyond the edge.
In the jungles of Colombia one spy meets another…
Tell No One 
Quinn Sinclair has worked hard and sacrificed much to become one of the only female operatives with the British Special Reconnaissance Regiment. Undercover as a medic in the Colombian jungle, Quinn is single minded in her assignment until the night a rescue mission goes awry. Instead of saving an innocent hostage from a drug lord she finds herself treating a sexy, wounded soldier, a man likely working for the enemy. Her new task? Maintain her cover, keep an eye on the enemy and guard the secret she carries at all costs. It should be easy except this soldier has a way of seeing right through her, making her feel things she's never felt before.
Trust No One
EDGE operator Marc Koven doesn't trust easily, no spy does. When a mission goes wrong and he ends up wounded and in the hands of a fiery and beautiful medic, he's immediately suspicious. Something about Quinn makes his blood boil. She's a woman with secrets. Secrets he wants to unravel. But he won't let her endanger his mission. He's been taught to keep his enemies close and that's exactly what he's going to do. However, the closer he gets the more Quinn challenges him, tempting him to do something stupid like haul her up against him and kiss the secrets right out of her.
Love No One
Forced together for the sake of the mission, Quinn and Marc must face the dangers of the jungle, fight a vicious drug cartel, and tame their overwhelming desire for each other. To survive, they must learn to trust one another above all else or be swept over the edge of fury