Excerpt: The Day He Kissed Her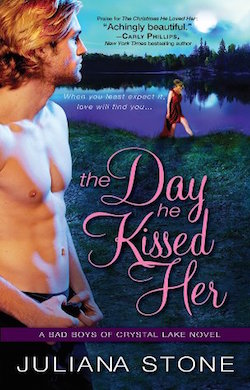 Book Three: Bad Boys of Crystal Lake
She kept walking, aware that he was only steps behind and as she approached a pile of brush that had swept up onto shore, she paused, welcoming the cool wind off the lake as it rolled over her body.
God, she was hot. And bothered. And confused.
He stopped inches from her back and was so close that she felt the heat from his body. So close that his earthy, fresh scent filled the air around her.
The guy had been out in the sun all day. He'd played a hard fought game of touch football and didn't have any business smelling as good as he did.
And even though it was childish, the first thought to enter her mind was that it wasn't fair. And somehow wrong.
Suddenly irritated, Lily exhaled a deep breath and turned around.
Don't look into his eyes.
But of course it was the first thing she did and boom, there went that damn horde of butterflies in her stomach. They flew and dove and man did they make her feel woozy. Mouth dry, she held on.
Get a grip, St. Clare.
Luckily, years of hiding behind a mask of indifference saved her and she crossed her arms over her chest, arched an eyebrow and was able to manage a sentence without sounding like an idiot.
"Five minutes is all I got, so what's so important?"
"Mac," he said, eyes smoldering, without skipping a beat.
"What?"
"My name is Mac. I want to hear you say it."
Surprised, Lily took a moment. "That's it? You want to hear me say your name?"
He nodded and leaned closer. It took everything in Lily for her not to shrink away. For her to remain still as his warm breath slid across her heated skin. Goosebumps followed in his wake and she couldn't hide the shudder that rolled across her shoulders.
"Are you going to make me beg?" His mouth hovered near her ear and she felt the imprint of his lips even though he hadn't touched her. "Cause I don't mind begging. I don't mind doing a lot of things."
"Mackenzie," she managed to say, her hands now on his chest as if she wanted to push him away. Except she didn't push him away. She did nothing. Hell, she didn't even breathe.
"Mac," he said, his voice a little rougher. A little sexier. "Mackenzie is what my mother calls me. Mac is what my friends call me."
She swallowed the lump in her throat, her eyes daring to travel up to his again. Wrong thing to do.
"And you think we're friends."
"I don't know, Boston. Are we?"