Excerpt: King of the Damned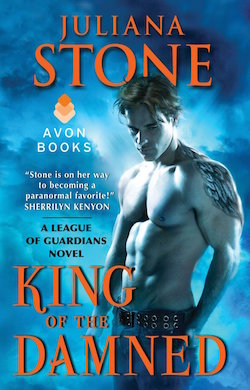 Book Three: League of Guardians
"Don't go." She whispered. "Not yet." Her hand was warm on his forearm and a muscle worked its way along his jaw as he struggled to remain calm and in control.
"You don't know what you ask."
Her eyes changed. "I know exactly what I'm asking. I know exactly what I want."
"I'm not a nice man, Rowan. In fact I'm the most flawed creature you'll ever meet."
"In case you haven't noticed, I don't scare easy."
She had no clue what he was. What he was capable of. What he'd done in the past.
Her eyes were luminous, huge jewels hung in a face so exquisite he knew he would never forget her. How could he? She was perfect. Just as she was. Right now. At this moment.
She stared up into his eyes and then slowly dropped her gaze to his mouth. Azaiel's groin tightened even more and he inhaled sharply as she moved closer. He needed to stop whatever the hell this was before it was too late.
"Move back." He bit out.
"No."
Anger boiled inside him. She was just a little girl playing a game she couldn't win. He was Azaiel, one of the original Seraphim. There was no middle ground with him and his passions ran hotter than she could handle.
"What game are you playing, Rowan?"
"I'm not playing a game."
"This can't happen." He said through clenched teeth.
"I think it can." Her eyes focused on his lips once more and he thought he was going to go crazy.
"Your family is right inside–"
"I don't want to talk about my mother or my crazy cousins," she licked her lips and they glistened, plump and ripe and inviting. "I don't want to discuss the curse or Mallick or…"
"Kellen?" The man's name on his tongue was bitter and he scowled down at her.
Rowan's hand crept up and when she touched his cheek, energy rolled over his tall frame, in a wave of hot, need. She stood on her tip toes and if Azaiel was smart he would have disengaged himself from Rowan's touch and stepped back. He would have put some distance and perspective between the two of them.
But Azaiel wasn't smart. Or even in control. He was under a spell. Rowan's spell.
And at the moment she was all that mattered.
"I especially don't want to talk about Kellen."
You can read more of this or buy the book at : http://www.omegaprint.com.au/carbonless-books.html