Available now!
Some Kind of Normal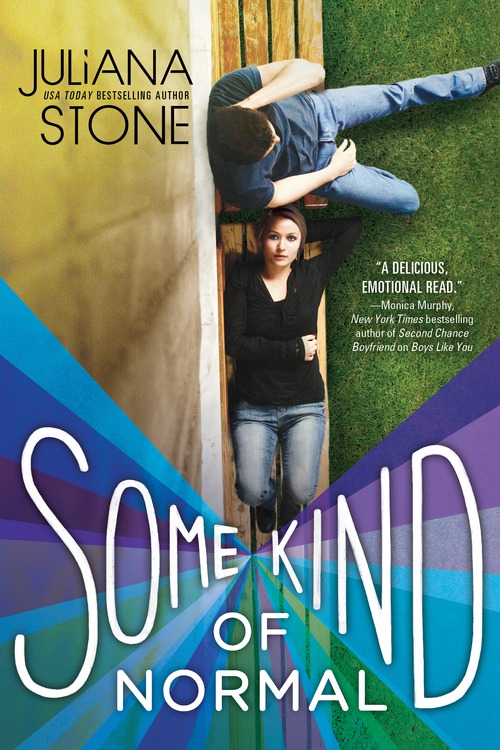 What is Normal?
For Trevor normal was fast guitar licks, catching game-winning passes and partying all night. Until a car accident leaves Trevor with no band, no teammates and no chance of graduating. It's kinda hard to ace your finals when you've been in a coma. The last thing he needs is stuck-up Everly Jenkins as his new tutor–those beautiful blue eyes catching every last flaw.
For Everly normal was a perfect family around the dinner table, playing piano at Sunday service and sunning by the pool. Until she discovers her whole life is a lie. Now the perfect pastor's daughter is hiding a life-changing secret, one that is slowly tearing her family apart. And spending the summer with notorious flirt Trevor Lewis means her darkest secret could be exposed.
This achingly beautiful story about two damaged teens struggling through pain and loss to redefine who they are–to their family, to themselves, and to each other–is sure to melt your heart.
What people are saying…
"This story of strength, courage, and discovery by two teens grappling with uncertainty over how to surmount larger-than-life obstacles is heartfelt, revealing, and self-defining…Stone writes with a focused, compassionate hand, offering the perfect book for readers looking for complex and mature themes mixed into a solidly crafted story about stepping into adulthood."
— BOOKLIST STARRED REVIEW
"Some Kind of Normal features believable, sympathetic characters dealing with serious family and personal issues… the sweet romance, likable characters, and complex family dynamics carry the story,For teens who love contemporary romances like Jenny Han's novels and Katie McGarry's "Pushing the Limits" series."
–SCHOOL LIBRARY JOURNAL
Available in paperback, April 2015 (new cover)
Boys Like You
Captivating and hopeful, this achingly poignant novel brings together lost souls Monroe Blackwell and Nathan Everets, who are struggling with grief and guilt – looking for acceptance, so they can find forgiveness.
What people are saying…
"The classic miscommunications, the emotional pushing and pulling, the "will she?" and "won't he?" of the destined-to-be-in-love. Readers of Miranda Kenneally, Jenny Han, and Susane Colasanti will enjoy Stone."
– VOYA
"The story handles challenging subjects like sex, drunk driving, and faith after tragedy in a sensitive and age-appropriate way…just what readers need."
– School Library Journal