The Blackwells of Crystal Lake Complete Boxed Set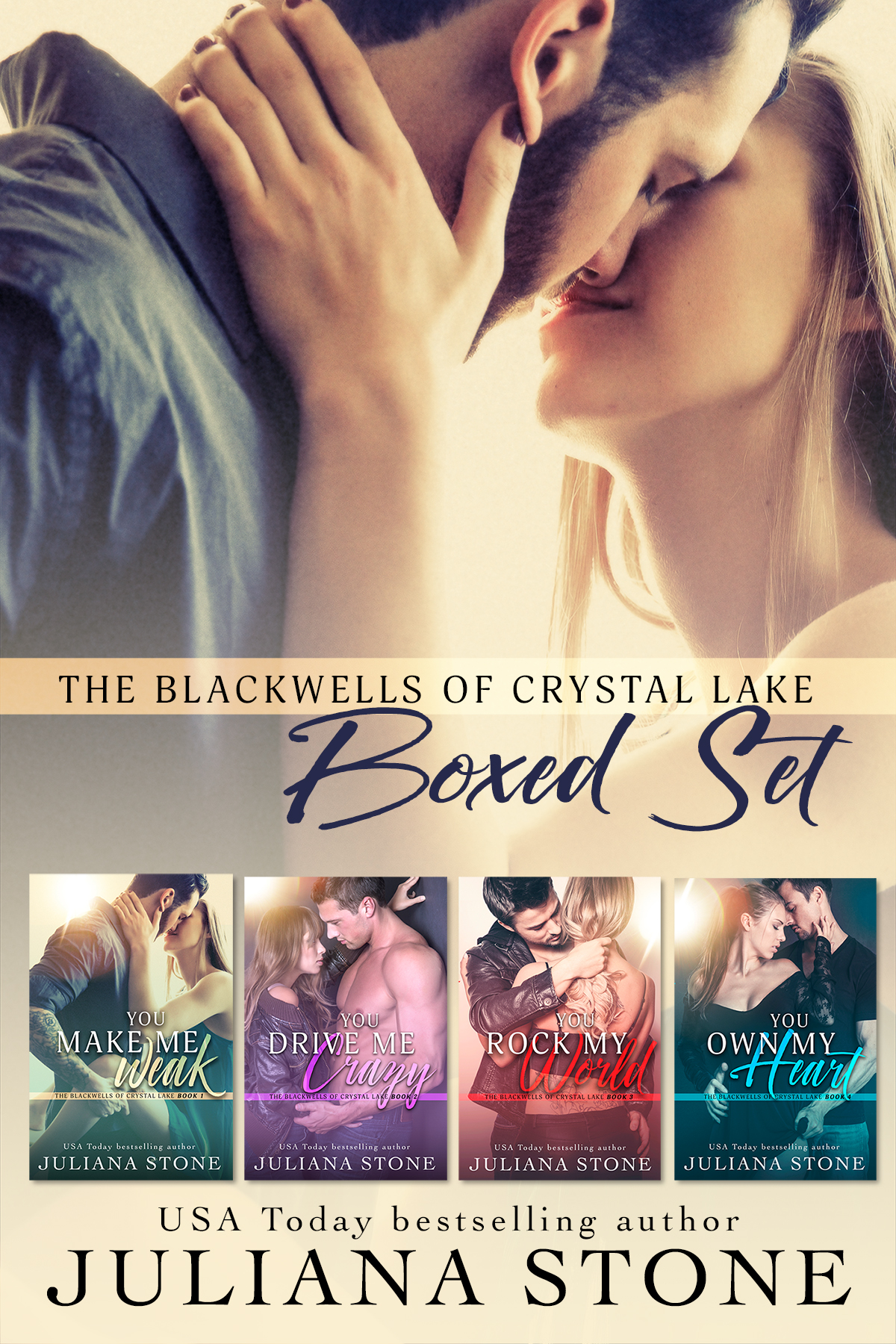 Four Books
You Make Me Weak
Tall, dark, and tattooed, FBI agent Hudson Blackwell has come home to Crystal Lake to deal with his dying father and leave. He doesn't believe in much, other than his brothers, his God, and his country. He likes his life simple and hates complications. So running into the girl he let get away, Rebecca Draper, is one complication he can do without. Yet the flames of desire still burn hot and it's not so easy to break ties a second time around. Makes a guy wonder…
Can a man who's made a lifetime of leaving find a reason to stay?
You Drive Me Crazy
Coming home to Crystal Lake should be a walk in the park for famous race car driver, Wyatt Blackwell. He'll collect an honor, see some family, and get back to his fast-paced life before anyone notices he's gone. But when a fender-bender lands him in the local ER, the doc who treats him is none other than the prickly, straight laced, student president he screwed over at prom. Her dislike is evident but so are the sparks. Good ones. Bad ones. Hot ones. Regan Thorne refuses to acknowledge any of them and that makes it personal. Makes it challenging.
Because Wyatt Blackwell doesn't lose on the track, and he sure as hell doesn't lose in the bedroom.
You Rock My World
Crystal Lake was supposed to be a weekend pit-stop for NHL goalie, Travis Blackwell. But a run in with his ex-wife makes him think twice. And though it's probably not a good idea considering their history—married way too young, he'd been gone before the ink had dried on the divorce papers—he decides to stick around for the summer. Things are different now. He's older. Not as wild. Some would say, even settled. He knows she was the one that got away, so he's willing to overlook a few things. Like the fact she hates his guts and has every reason to. Call him crazy, but this hot shot goalie has just begun the game of his life.
 And losing isn't an option.
You Own My Heart
Honey Harrison has come to Crystal Lake for one reason only—to expose a secret and finally move on from a past that won't let go. But ruining the Blackwells isn't as satisfying as she wants it to be. And the heart she'd long buried is not so cold and black after all. Complicating matters is the most infuriating man on the planet. Nash Booker makes her crazy. And hot. And bothered. What's a girl to do? Does this southern spitfire up and leave? Or does she face her fears and risk losing her heart…
Nash Booker has no time for complications. He's busy. Focused. He's definitely not looking for a relationship. Which is why the new hire at his bar pushes every single button he owns. Honey Harrison is edgy, opinionated, prickly, and unfortunately for him, sexy as hell. She's also hiding something. She's the kind of woman he doesn't need in his life. Yet he can't deny the pull or his need to get her into his bed. For a guy who likes risks, she might be the biggest one of all-or she could be his biggest mistake. As winter gives way to spring, Nash Booker is about to find out.