The Day He Kissed Her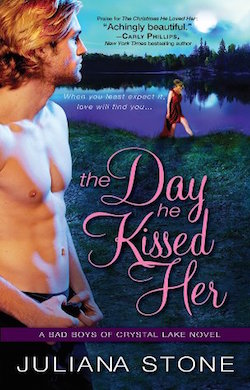 Book Three: Bad Boys of Crystal Lake
He can't wait to leave…
Mac Draper finally has everything he's always wanted: An amazing career. A New York City apartment. He's this close to being free of his past forever. But a mind-blowing encounter with the sexy yet tough-as-nails Lily St. Clare has him delaying his plans to put Crystal Lake in his rearview mirror for good.
She's finally found a place to stay…
For Lily St. Clare the charming small town of Crystal Lake is her haven – a place she can hide from her famous, back-stabbing family. It's as close to happy as she's ever been. Until an unforgettable night with tall, dark and tortured Mac Draper gives her a glimpse of what true happiness feels like.
Lily can't help but melt a little under the sizzling heat of Mac's touch. But Mac's scars run deep, and Lily's afraid she may be falling for the one man who can never return her feelings…